RELEASED: 8th October 2015
Kevin
Bubble Bath Blues
This movie follows on directly from the movie Team Punishment
Kevin has just been spanked by the football Team Captain, Sebastian. His bottom is red and sore and he feels humiliated. After a long, hard day he decided to soothe his tender bottom in a nice bubble bath.
unfortunately Kevin's father has heard all about his bad behaviour and is furious!
Kevin's behaviour has been getting worse and his Dad decided that there has to be some strict punishment! So Kevin is facing another spanking! On his already sore and tender bottom!
STREAM
VIDEO
Available streams for iPad, iPhone, Android, Chrome, Safari, IE or Firefox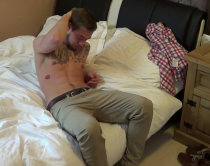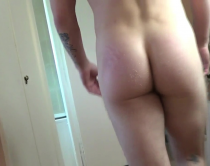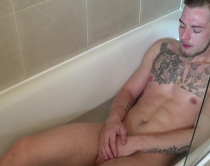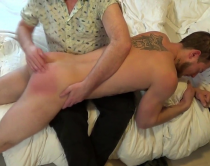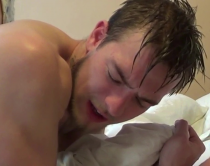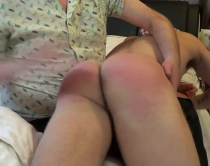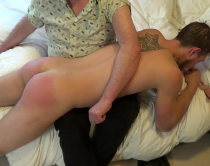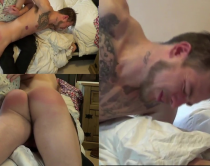 dcspank2 | 27th August 2017 07:13
Reply

Ficwriterjet | 8th March 2016 06:53
I watched this one again tonight because Kevin is just so fantastic in it, and the both of you do such an amazing job with the dialogue. :)

wardcoleman | 8th March 2016 14:55 (276 weeks ago)
I have to confess that this is one which I can't stop watching either! :-)

Ficwriterjet | 8th March 2016 15:02 (276 weeks ago)
Hey Ward - Nice to know I'm not the only one. :) I think part of it is Kevin's wet disheveled hair. It's adorable.

wardcoleman | 8th March 2016 20:47 (276 weeks ago)
Hi Fic

Yes, Kevin's hair is part of the attraction ! There are others as well though!
Reply

Bruce | 13th November 2015 13:11
This is an outstandingly good video.
Reply

wardcoleman | 17th October 2015 12:59
Just watched this again! I hope MP4 video files don't wear out!
Reply

mattnyc | 8th October 2015 23:41
I gushed so much about the preview clip I'm afraid I'm repeating myself here but this one is so good I have to post a review. Kevin is AMAZING. He's so good looking, his body is fantastic, and he has the most beautiful, spankable bottom. Add to all that the fact that he's such a good actor and you get a pretty great package. I love this clip. The spanking action is great, Dave does a perfect job as the strict dad, and Kevin looks AMAZING otk. I love all the kicking, yelping, and squirming. Basically I love everything Kevin does in this one. He's become one of the best actors on the site and I really can't wait to see more of him. Hopefully over Sebastian's knee. As I said in my last review, I think they're two of the best actors and best looking models on the site and they had great chemistry in their interview. Dave, great work directing, writing, and starring in this one. And great work, as always, Art. Thanks, Kevin for being the perfect SLS model.

Dave - Straight Lads Spanked | 9th October 2015 13:38 (298 weeks ago)
There can never be too much gushing when it comes to saying nice things about my movies Matt! Let's hope Kevin messes up and has to visit the Team Captain some time soon!

wardcoleman | 9th October 2015 14:03 (298 weeks ago)
Will Kevin mess up and need another Spanking? Will it rain this winter? Will Christmas be in December? Will we be here watching when he does?!!

mattnyc | 14th October 2015 17:30 (297 weeks ago)
Ha!. Agreed, Ward. Dave consider me ready and waiting to gush over anything with Kevin but especially a trip over the Team Captain's knee. Can't wait to see the Fraser/Karl video this weekend. Fraser is amazing. Thanks, Dave.
Reply

uchikimatsu | 12th October 2015 23:55
Watched this a few more times and I have to agree with everyone here that while this film deserves all the praise its been getting for the amazing dialog between Kevin and Dave and for the superb acting job they both did, it should also be in the spotlight for all its technical achievements as well. I'm no expert in such things, but to me the lighting looked quite natural, as if we were viewing everything under beautiful sunlight through an open window. I don't know if Dave got new equipment, but the picture seemed clearer to me. This was most noticeable when I hooked my computer up to the HDTV via an HDMI cable and played the video on a large screen. This video is the sharpest, cleanest image I've ever seen streaming to my television this way. It was glorious. Art, as always, weaves magic into these clips. I especially appreciate that he recognized the quality of both the picture itself and the intangible quality of chemestry and dialog going on between Dave and Kevin. All of that was allowed to shine with a few well done split screens and not much else. Thanks again everyone involved for one helluva film.
Reply

NovaDad | 10th October 2015 23:09
Second spanking... this one on his bare butt. It surely stung like anything, yet Kevin took it like a man!
Reply

wardcoleman | 8th October 2015 16:28
Just watched it again!

Dave - Straight Lads Spanked | 9th October 2015 13:30 (298 weeks ago)
Unfortunately Ward you may have to endure watching this again to take some screenshots for Jockspank. I do apologise that you have to go through such a dreadful ordeal!

wardcoleman | 9th October 2015 14:07 (298 weeks ago)
It's a tough job, but someone has to do it!
Reply

CassieAnne17 | 8th October 2015 19:31
Oh, and I loved the whole him not getting to put any towel on or anything, just straight to the bedroom and over the knee soaking wet and bare bum was awesome!! :) xoxo

wardcoleman | 8th October 2015 20:29 (298 weeks ago)
Yes I loved that too, straight out of a hot bath and over Dad's knee. They always say spankings sting much more like that!

Also the dialog, was really excellent

Dave - Straight Lads Spanked | 9th October 2015 13:32 (298 weeks ago)
I'm pleased that people are liking the straight out of the bath spanking! I thought it was really appropriate in this situation!

wardcoleman | 9th October 2015 14:05 (298 weeks ago)
Lets hope you think up some more situations its appropriate in. If not, let me know, 'cos I'm thinking!
Reply

Cherylkay | 9th October 2015 04:41
OMG Kevin was amazing in this! I expected him to be great, but not this great. He has everything going for him here---looks, attitude, dialogue, and (maybe most important of all) he's incredibly spankable. It has very little to do with his bottom, although it's a nice one. Kevin is just really spankable. He's attractive, yet in a very masculine way. I'll go out on a limb and predict great things for Kevin here at SLS.

The wet bottom spanking was awesome. I really enjoy them myself when I get a top who's so inclined. And yes, it does sting more. I loved his reactions and protests. Even so, he seems to be getting a little more comfortable with having a man touching his bottom. I mean, he probably still hates it, but at least he's getting more used to it.

Dave, you were great. I can't get over how good you're getting in the videos. Just in the year I've been a member (goodness, has it been that long?) you've really taken your game to another level. And I think when you raise the bar on your own acting, it makes the guys feel more comfortable doing the same, which results in the awesome movies we've been getting. I love the direction you're going in now.

Art, I can't leave you out of this praisefest LOL. Your work always amazes me.

Dave - Straight Lads Spanked | 9th October 2015 13:51 (298 weeks ago)
Why thank you Cheryl. Yes I have been reliably informed that getting spamked on a wet bottom really does sting! You have actually summed it up perfectly about Kevin. He seeks no pleasure at all from having his bare bottom spanked by another man. However, over time he has gotten used to the situation and has come to terms that it is what is necessary in order to do this kind of work and there is no point stressing about it and instead just gets on with it.

Reply

uchikimatsu | 9th October 2015 04:16
Oh my actual fuck.

While I would find it too difficult to quantify something like the "best" film on this site because there are so many variables and "best" can often depend on my mood that day, I can say that this film has instantly skyrocketed to one of my all-time favorite movies on this site, or anywhere, actually.

Someone mentioned that Kevin understands what the audience wants and that is exactly right. His dialog flows with an unselfconsciousness that is the perfect foil for Dave's Dad character. Dave has always been good, has always known what we want, but its difficult for even Dave's most professional performances to carry an entire film when a model is particularly shy or clumsy with dialog.

Kevin and Dave have some really great chemestry going here. Kevin's just a natural and this allows Dave's talents to really shine as well. They play so well off one another that you'd think they were doing this for years already. Maybe they haven't, but I hope they do.

Also, thanks for resolving that little conflict about the coach and captain. I was wondering why it was ok for Seb to spank Kevin but not Karl. Nicely done. Maybe we can get another film out of that. Coach Andy takes Team Captain Sebastian in hand for taking discipline too far beyond his authority.

Dave - Straight Lads Spanked | 9th October 2015 13:47 (298 weeks ago)
Thanks Chiki! Yes Kevin was superb in this and it makes my job soo much easier when I don't have to worry about giving the model all his lines.

As for the conflict... I reckon the coach probably knows that type of "team discipline" happens players mess up but just chooses to turn a blind eye to it. Of course it's very different situation to walk in on Team Captain Sebastian just dishing out the punishment!
Reply

wardcoleman | 8th October 2015 13:18
I just watched the latest release, and I am blown away!! This is one of the best you have ever made, the dialog is perfect and Kevin is superb. he says the lines people want to hear him say like "My bottom really hurts" and "He spanked my bum" and he is really natural and convincing. The camera work is spot on and the film quality really good . Great story line, great acting, Kevin gets spanked on a wet bottom (that must have stung!), and there is a a brilliant cliff hanger at the end, (I won't give it away) what more could one ask for?.

If anyone votes this less than 10/10 they must have downloaded the wrong movie.

Kevin seems to understand the fetish very well, he knows what is required of him and he gives it.

Great technical work by both you and Art. I am really impresses, well done.

It is quite a while since I enjoyed a spanking movie so much. It is right up there with some of Bailey's and Dom's best, but better still, because you are getting better at what you do.

Congratulations.

Sorry to be so enthusiastic, but it is deserved

Dave - Straight Lads Spanked | 8th October 2015 22:31 (298 weeks ago)
Yes, Ward. but did you like this movie?

nanarr | 8th October 2015 23:46 (298 weeks ago)
This is a winner! I like it!!

Agree with WardColeman: Kevin's facial expressions, complaints, groans, etc. are perfect. The look on Kevin's face when Dave delivered his last line (I won't give it away) was priceless ... horror struck. LOL

Dave, your scolding comments and acting just get better and better.

Photography is sharp and clear. Cameraman did an excellent job.

Another great editing job ... ARTfully done.

Thanks to you, Dave, and Kevin, and Art for an excellent movie. Appreciate you all!!

Dave - Straight Lads Spanked | 9th October 2015 13:42 (298 weeks ago)
Hi Ward,

Wow! That is praise indeed (from a man who has watched a lot of spanking movies) so I really appreciate it!

Thanks also Nanarr for all the kind comments! I agree, Art's work here was just brilliant! I'm really pleased that you acknowledge what he does as I sometimes run out of words to express how much I appreciate it too!

(oh and I was also the Cameraman so I'll take that compliment too)!
Reply

Ficwriterjet | 8th October 2015 23:21
That was spectacular! Just... wonderful, and amazing. :) Kevin is so cute with his hair disheveled and wet. :) The dialogue was perfect - Kevin's ability to stay in character and not stumble over what he's saying while talking quite frequently is awesome - especially when matched with you Dave, since your dialogue is always well done too. Loved the lack of a towel, and that he was clearly wet when he went otk. I loved his squirming, and the eventual reaching a hand back. :) Wonderful editing Art - I liked the three screens in one where we got to see butt, face, and a wider shot of the body.

Thanks everyone for the film, it is one of my favorites. :)

Dave - Straight Lads Spanked | 9th October 2015 13:35 (298 weeks ago)
Thanks Jet. Kevin's dialogue was exceptional in this. He kept in character and acted his little socks off! (well he would have done if he had ben wearing any)!

Really glad you enjoyed this and thanks for the lovely feedback.
Reply

CassieAnne17 | 8th October 2015 19:26
Wow! I thoroughly enjoyed it! I am not crazy about tattoos in general but I actually like some of Kevin's especially the owl/skull one. :) It was a great movie and I agree a 10/10!!

Dave - Straight Lads Spanked | 9th October 2015 13:32 (298 weeks ago)
Thanks Cassie. Yes, the Skull tattoo looks really good!
Reply

Ooleary | 8th October 2015 18:24
OMG love love love best movie going to watch again and again Kevin is so good his reactions the dialogue his yummy yummy bum everything and his face right at the end when a certain name was mentioned priceless please please please make this come through xx 10/10 no hesitation

Dave - Straight Lads Spanked | 9th October 2015 13:31 (298 weeks ago)
Thanks for the 10 out of 10 Orla! Yes, his face at the end was fantastic and Art captured that moment beautifully!
Reply

Rasputin | 8th October 2015 14:42
Very good video, Dave. I'm not that wild about Kevin's tattoos and his beard, but he's got a nice body and he's a good actor - lots of squirming, kicking, grimacing, grunting, etc. I enjoyed this one.

Dave - Straight Lads Spanked | 9th October 2015 13:29 (298 weeks ago)
Glad you enjoyed this one Rasputin
Reply

CassieAnne17 | 9th October 2015 04:43
Just watched it again and still LOVE it! at the risk of repeating others the dialog is excellent, as well as everything else. Certainly going to be one of my top favorites, I'm just not sure about the ending...
Reply

uchikimatsu | 8th October 2015 18:42
All the peoples are messaging me about how spectacular this clip is and how I'm going to flip out over it...but I'm at work, and when my day is done I still have a long commute home!!!

This is torture! No fair!

CassieAnne17 | 8th October 2015 19:42 (298 weeks ago)
Aww sorry!! Hang in there, it's worth the wait! :-)

wardcoleman | 8th October 2015 20:31 (298 weeks ago)
Be patient Chiki, it is something to look forward to. I know you will enjoy it

Dave - Straight Lads Spanked | 8th October 2015 22:31 (298 weeks ago)
You will hate this movie. There is no spanking in it at all. I just sit there touching Kevin's face for 20 mins...
Reply