RELEASED: 8th December 2013
Real Punishment - Sebastian - Bath Brush Beating
Sebastian is an idiot! There is no doubt about that!
This movie follows on one week later from Real Punishment - Sebastian - The Strap which followed on from
Real Punishment - Sebastian - The Cane
Sebastian had the money to get his fathers laptop from the pawn shop. Once again Sebastian got distracted and found other priorities!
Mr X is furious!
What results is the probably the harshest punishment I have ever filmed.
The dreaded bath brush is used and boy does Sebastian feel every whack! You can see the pain in his face as his bottom turns purple!
This is a no nonsense beating and certainly not for the faint hearted!
Get this movie as well as Part One and Part Two of Sebastian's Resl Punishment for just $23.99
Thats over 90 minutes and three full length movies!
Click here now for all the details! Hurry though this incredible offer will not last forever!
STREAM
VIDEO
Available streams for iPad, iPhone, Android, Chrome, Safari, IE or Firefox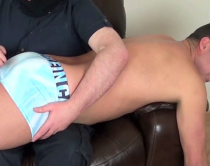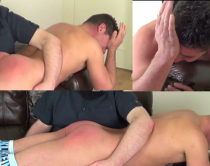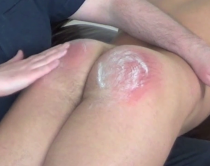 swespanker
|
Voted Video 10/10
| 8th December 14:19
EXCELLENT!

The plot is very good, Sebastian is AMAZING, taking this brushing like a real man! This one just entered into my personal top Three from this site.
I also like how you switch between the brush and the hand, and that the handswats really look and feel not hard, but VERY hard, judging from Sebastians reactions.
Only one thing I would have done differently, I would have given him 12 or 20 instead of the final 6 "silent" swats, but my guess is that poor Sebastian couldn't have taken it, considering his very real reactions during the last minutes.

A very nice early Xmas present, thank you Dave and thank you thank you thank you Sebastian!

Dave - Straight Lads Spanked
|
Not voted video yet
| 8th December 15:03
So glad you liked this one Swespanker! Was wondering what the other two were in your top three? Oh and I don't think Sebastian could have taken any more. In fact I think I pushed him to his limits!

:)

Dave - Straight Lads Spanked
|
Not voted video yet
| 8th December 15:05
Can't wait to here some more feedback on this movie! :)

lorilee
|
Voted Video 10/10
| 8th December 15:42
Sebastian was Great, I bet it will be a least a week if not more before it is comfortable to sit down. I do hope he has learned that gambling is not worth it anymore. I am happy to that see you took him to get the laptop this time. I agree you pushed him to the limit but he did deserve it, Great job both of you. Loved the music Art.

NovaDad
|
Voted Video 10/10
| 8th December 15:49
I think Sebastian is such a totally hot and hunky lad!! His quiet demeanor – except when he's over your lap -- makes him sort of a "sleeper" who has snuck up on us – at least on me.

You definitely give him a very, very thorough spanking with that fierce, hardwood bath brush (and, of course, with your firm, bare hand on his firm, bare bottom)...and it's very apparent from the expressions on his face!

Even though every lad has a different tolerance for pain and every lad's bum reddens at a different pace, for sure, Sebastian took one no-nonsense spanking from you.

I don't know if there's any friendly competition among your lads, but if there is, Sebastian absolutely took a spanking that's the equal of any – and perhaps a spanking that has even raised the bar a bit.

Although he seems a little shy, perhaps one day Sebastian will be up for some friendly competition in some future spanking game (like a second game of Twister – or perhaps a game of Darts?).

Thanks, Dave, and especially thanks, Sebastian!!

-- Don


Art
|
Not voted video yet
| 8th December 20:16
Thanks lorilee :-)

cami
|
Voted Video 10/10
| 8th December 21:08
Just got done watching this movie, WTF Sebastian. I mean really i don't think the spankings are working for you until this one. & you can quit you fake crying too. I did not see 1 tear come from your eyes. & when the camera came close to your eyes . Your eyes were not watery at all. Your good acting might got Mr.X feeling sorry for you but that did not work for ya. lol. See in these cases when i see ppl getting the brush i feel sorry for them. Like Bailey , Liam, Andy & Patrick but not for you. I don't feel sorry for you anymore. You got what you deserve. Now i do think you need help with your gambling issues. You might go into rehab for that.
But on this movie i do have to say you did take the brush very well. & again remember i did not feel sorry for you at all. ( JUST SAYING)

Now to ART that was so awesome how you did the graphics how you typed the graphics in that was really kool. loved it..

& for Mr.X you are always good what you do :)

& Dave keep up the Awesome work :)

rm7guy
|
Voted Video 10/10
| 9th December 06:20
My goodness, Sebastian was always a favourite, but him plus bath brush just exceeded my wildest expectations. Thanks to all concerned for a stunning video. Can't really say more than that, I need to watch it again :)) EXCELLENT

tawser
|
Voted Video 9/10
| 9th December 14:43
Sebastian possesses all the qualities of a truly great spanking model: he's nice looking in a boyish way, he has a cute butt, he doesn't enjoy getting spanking but he's basically a submissive who takes his punishment without too much shouting or squirming, and by no means least he isn't terribly bright. His lower lip even quivers when you lecture him! Magnificent job and I would love to see him again, although what is there left for you to spank him with? The birch?

welshboy
|
Voted Video 9/10
| 10th December 03:29
I wish I had seen this film before I had seen all the blog posts, If I had I would say this is the best bath brush spanking you have done so fare. The fallow on story was just great, but its also sad as it's a true story and it looks like Sebastian does not learn from his past spankings. Sebastian has done so well in this film. His look as always is great and by the way Sebastian I loved your underwear. The spanking was full on, Dave I can see you were so mad with Sebastian, great job. Art the three picture close up of Sebastian was gold viewing and the graphic's at the end were just class. Well done to all.

Art
|
Not voted video yet
| 11th December 16:46
That's a great thing to say, welshboy. I appreciate it.
Thanks to cami as well. You're always so nice. :-)