RELEASED: 26th June 2014
Wayne - Wait Till Your Father Gets Home
Wayne has got into trouble. Caught smoking weed at college!
His father is furious and Wayne is give that dreaded command.
Go home to your bedroom and wait for me to get home!
Wayne deserves a proper punishment and in this case is a bare bottom belting!
His father dos not hold back and you can see his bottom change colour to bright red as the belt lashes keep on coming!
STREAM
VIDEO
Available streams for iPad, iPhone, Android, Chrome, Safari, IE or Firefox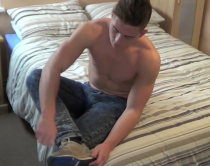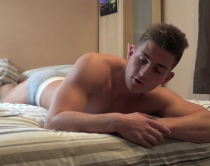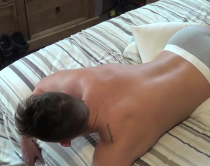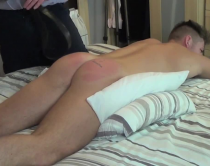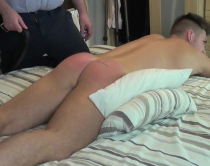 Very reminiscent of the beltings I received growing up. Quite realistic.
Reply

Reply

Cherylkay | 29th November 2014 23:09
Well, Wayne was a very naughty boy here. To my way of thinking, the punishment was deserved, not just the belting, but also being grounded during his suspension (to say northing of no internet or pocket money). However, I think sending a growing boy to bed without supper is kinda mean. Even prisoners get bread and water, after all LOL.

Wayne was brilliant in this. I love how to tried different avenues to try to get out of his punishment, from reminding Dad that he was probably naughty in his younger years to saying it was his first time and he was the one who happened to get caught (I tried that one in high school and it didn't work then either). His reactions are also about as close to perfect as it gets for me--he lets us know it hurts with grunts, groans and the occasional kick. I really am not a fan of guys who do all of that flying around. Staying in position is really like the icing on the spanking cake for me. His facial expressions also ticked a couple of boxes. Wayne does regret and embarrassment better than anyone (except for maybe Adam).

Dave, your dialogue was perfect in this one. You conveyed your anger, dismay and shame just the right way. I like that you never scream or yell, but keep your composure. It's a nice counterpoint to Wayne's reactions. You let him know that not only were you disappointed in him, but that he was jeopardizing his future. I know that some people find the dialogue a bit "preachy", but for me, it's really important that the film be realistic. I think the things you said to Wayne are probably what any father would say. I guess on other websites, we would probably just get the beating without the meaningful dialogue. It's part of what sets SLS apart from those other sites. By the way, I don't think Wayne or anyone else for that matter, has ever believed that old line "This hurts me more than it hurts you." LOL
Reply

welshboy
|
Voted Video 7/10
| 26th June 2014 19:42 (396 weeks ago)
Wayne has the most spankable bottom and it was a good story. The only down side was Wayne looking into the camera all the time. Again great use of underwear. I do love wayne's hair with no jell in it. Yes I want to see more of Wayne and his red spanked bottom. Great use of music too at the end.

Lynne
|
Voted Video 8/10
| 26th June 2014 20:58 (396 weeks ago)
Spliff!! Spliff???? Slightly changing the phrase my friend over there used the other night with me, I'll say, oh you UK types and your phrases.
Poor Wayne seems to be catching it a lot lately as we know he had an introduction to the BB recently as well. Going on what I saw here, I have a feeling he was victorious in that last round of the spanking competition; he seems to have a high pain tolerance.

Wayne has grown on me quite a bit and I think that is because he has gotten better in each subsequent shoot. He seems more comfortable, or as comfortable as he can be, in the roles he is playing.

Well done to all as usual :)


lorilee
|
Voted Video 8/10
| 26th June 2014 21:27 (396 weeks ago)
Wayne you did a great job the 15 straight licks I was not sure you would make it, you really are one of the most spankable you lads on sls. Loves the tight blue jeans and underwear. The one think I would like you to do is try to not look into he camera so much.

Art music was great all in the right places.

Dave as always great job.

uchikimatsu
|
Voted Video 5/10
| 26th June 2014 22:19 (396 weeks ago)
So, I have a friend coming over tomorrow night who was curious to see some of the vids here on SLS, we were going to have an SLS movie night, starting with the new release, but lo and behold, here it is! He asked me to hold off watching until he got there because he wanted to experience all the excitement I go through seeing a vid for the first time (!)
He is ... straight-ish and likes all kinds of stuff. I have the best friends in the universe (have been friends with him for over 30 years) but it was harsh and cruel of him to ask me to wait!

:::biting my fingernails::::

hmmmm, I guess I can go work on finishing up that BAILEY PORTRAIT ......

Rasputin
|
Not voted video yet
| 27th June 2014 00:36 (396 weeks ago)
Welshboy is right - Wayne is a good-looking lad who looks better with no gel in his hair, and his fit body looks good in those gray briefs. However, his reaction to his belting was just a little too stoic for my taste.

kristi10
|
Voted Video 5/10
| 27th June 2014 01:15 (396 weeks ago)
Very good film! Wayne has really grown on me as well, the interview before the spanking competition in particular, is when I began to notice how attractive he really is. well done Wayne, Art, and Dave.
Dave, thank you for helping me sort out that issue, I really appreciate that!

kristi10
|
Voted Video 5/10
| 27th June 2014 07:57 (396 weeks ago)
I really do not care if Wayne has gel in his hair or not, he is sexy either way, however , the unjelled look seems to suit him better.. love love Wayne!! kiss kiss

toshiba
|
Not voted video yet
| 28th June 2014 00:19 (396 weeks ago)
Wayne has nice teeth.

uchikimatsu
|
Voted Video 5/10
| 28th June 2014 02:40 (396 weeks ago)
Meh.

@Lynne - spliff is not a UK term, although I've heard it pronounced more like "spleef," but we have a lot of islanders here. Pass it on the left.

Wayne *has* been getting better in each shoot, however, this doesn't seem to be a new shoot. The room is painted so it isn't very old, but it doesn't appear to be that recent, either.

FACE CAM LOOKER! I know Dave said he's been having stern words with the lads before filming recently about this, which also clues me into the age of the film.

Its not bad, but its riding on the heels of Parker's debut and that's a tough act to follow.

Domfan
|
Not voted video yet
| 30th June 2014 22:00 (396 weeks ago)
Love his cheeky face

kristi10
|
Voted Video 5/10
| 3rd July 2014 07:00 (395 weeks ago)
Dave, I am really surprised that you haven't responded to any of these comments yet, you must be very busy! What's cooking?

Dave - Straight Lads Spanked
|
Not voted video yet
| 3rd July 2014 19:11 (395 weeks ago)
Apologies for the delay in getting back to you all on this one. It's been a crazy week here at SLS!

Ok so I am going to reply to everything at once! :)

Apologies about Wayne looking into the camera Welshboy. This issue has very much been addressed now! Glad you liked the undies though!

Thanks for the nice comments Lynne, glad Wayne is growing on you! :)

Glad you liked it Lori Lee!

Thanks for the feedback Rasputin..

Glad you got sorted Kristi10

Wayne has really nice teeth toshiba!

You are right Chiki this movie was shot ages ago! In fact I have a confession. I'm not quite sure how this happened but I kind of forgot about it! I mean it just slipped off my movie release list and it was just one day recently when I was archiving movies I 'found' it and realised it had not been released! I mean how can you lose a movie! LOL! So yes, this was shot before the issue of looking into the camera had been addressed!



Domfan
|
Not voted video yet
| 3rd July 2014 23:06 (395 weeks ago)
I demand more Wayne! And Dom! And Andy. Dave how do you find these cuties?

Dave - Straight Lads Spanked
|
Not voted video yet
| 3rd July 2014 23:09 (395 weeks ago)
Don't you worry! There will be more Wayne and Dom! I guess it's all about perseverance! :)

Domfan
|
Not voted video yet
| 4th July 2014 06:55 (395 weeks ago)
Oh and some Oliver too please. Then maybe some Patrick and Tom. :-D

Dave - Straight Lads Spanked
|
Not voted video yet
| 4th July 2014 08:26 (395 weeks ago)
There is deffo more Oliver and Patrick coming your way. Not so sure about Tommy though.

Domfan
|
Not voted video yet
| 5th July 2014 19:15 (395 weeks ago)
More of them squirming on your lap would be good too. With their willies on your thighs. :-D

Wayne i'm in love with your bum xx wayne is starting to grow on me but his acting isn't quite as good as some of the other boys but he's getting better Stop looking into the camera all the time and listen to Dad when he's scolding xx