RELEASED: 16th June 2018
Zach
Helping Hand From Dad
Part 2
This movie follows on from Part One
And Zach, the star of this week's film, can't say he wasn't warned. The first time we met him, a few weeks ago, he was getting his bottom smacked over his dad's knee after admitting that he had been pinching money from his wallet to feed a dangerous habit. And after teaching his wayward son a very painful lesson, Dad told him in no uncertain terms that if he didn't shape up, he would be getting it worse next time!
In this week's new release, Dad has prepared all the paraphernalia for a random test to satisfy himself that Zach has been staying clean. But Zach declines, admitting that if he were to take it, he would fail. Not only that, but the whining brat tries to justify his backsliding, claiming that Dad has got it easy and doesn't understand how stressful his life is!
But Dad isn't buying all that rubbish any more. "You say I've got it easy," he says. "But I'm not going to go easy on your bottom today, young man!"
Zach tries saying he is sorry, but as usual, it's too little, too late. Dad tells him to bend over the table, and begins to warm the seat of his jeans with the old wooden slapper he has brought down from the attic. Zach is embarrassed that the neighbours will hear.... but Dad doesn't care! And the revelation that the young waster has financed his habit by stealing money does nothing to mitigate his punishment. Zach is told that he is grounded.... and to get his trousers down!
Bending over the table again, Zach is whacked hard across the seat of his tight white pants, and eventually, when he is ordered to pull his pants down, on his bare bottom. Dad is determined to get through to the wayward lad this time!
Zach is a very lucky young man to have a father who cares enough to discipline him strictly and then tell him that together they will seek help and sort his problem. With a bottom as red and sore as his, of course, he might not appreciate his good fortune just yet!
STREAM
VIDEO
Available streams for iPad, iPhone, Android, Chrome, Safari, IE or Firefox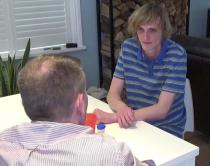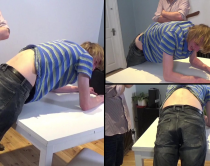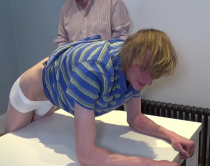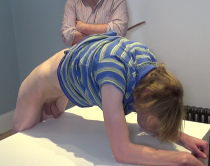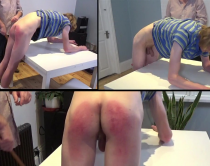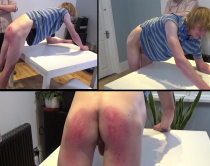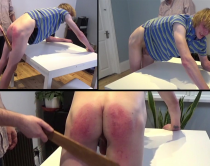 KendallNguyend | 6th September 2021 06:36
Reply

Serena89 | 15th February 2019 02:12
I keep finding videos that I like even more and having new favourites I must be a bit fickle lol. I honestly hope that Zach is an amazing actor and can get so into character and is excellent and bringing on tears or else I feel reallllyyy sorry for him (the model). That's the most distressed and upset I have ever seen anyone on here.

I love his acting so much. The way he speaks is so proper and apologetic it helps me really see a backstory and background and makes it even sadder he is in this predicament. I mean it does work when the model plays a character who is usually messing about and is a bit of a lad or a bit of a brat but when it feels like they're someone who is very moral and respectful and brought up well it makes it feel more serious and poignant.

This version of dad is very strict but not unkind at all which is great. I mean I have seen characters do much worse, much more often and behave terribly during their punishment get off much more lightly. But again it goes well with the characters Zach and Dave are portraying and makes sense why the dad is so dissppointed and why Zach feels so ashamed because this is out of character for him.

I love how he is sp open and expressive with his reactions like yelling, crying, jumping around and hitting the table. But he very rarely tries to intercept the punishment so I truly do believe his remorse is genuine.

I would love to see more of Zach but I am not hopeful going by the fact this video was last June :( I'd like to see him interviewed to see where all of that sadness and remorse came from.

Great job everybody!
Reply

JamieJones | 18th June 2018 20:43
Zach did remarkably well to take the beating he did in this movie, his dad sure is tough, even compared to some of the other SLSville dads. This was only the second time Dad had caught Zach smoking weed and Zach approached his dad about it the first time so the punishment seemed a little harsh to me but, then I guess, each Dad has his own view of what is or isn't acceptable while his son is living under his roof.

Zach continues to pull on the heart strings, especially when he said that drugs were the only good thing in his life at the moment :-( but Dad saying he would get Zach whatever help he needs and that they will work together to get Zach off drugs was lovely. Hopefully Zach will start to realise he does have something good in his life - his Dad.

Reply

Orla | 16th June 2018 21:20
Well done Zach that was a harsh spanking ,his bottom was properly bruised and red and quivering after the 12 count.

I hope Zach learns his lesson and gets clean in rehab,maybe one of his steps in rehab is to confess to the guy he stole the money off and ask for forgiveness and this guy spanks him too I'm just wondering which one of the lads this could be Andy Charlie 🙄
Reply

mstr_spkr | 16th June 2018 16:33
Excellent work all around. Zach is a trooper to take all that. Zach has a pretty high bar that his two videos have set for him. Perhaps the good news for us is that there is still the unused drug testing kit waiting so part of me hopes that means we get at least one more of this series. What's next, a bath brush beating before mandatory rehab?

I know this is a story with fictitious characters but I hope for the sake of the person in the story that Zach's (hopefully many) future spankings are for things other than drugs. Let's not forget that he asked for help for his other unnamed problem areas so I am sure we will never run out of plots or themes for future "Helping Hand" videos once drugs are resolved. I know this is entertainment (for us if not the models - their pain is our gain after all) but to see this story line progress with him getting clean would send a great message. There is help available for people who need it.

Even if he's off drugs let's not forget that he stole money and there should be restitution for that as well. Perhaps one (or more) of the other models could have been the victim and requires giving him a proper, serious spanking as part of the payment. Just a thought.

I loved the video and let me end with an observation. It's funny how when lads are being spanked they seem to be more concerned about the neighbors hearing their punishment than they are about fixing the root cause that brought on the spanking in the first place.

Thanks again to all.
Reply