RELEASED: 3rd March 2017
Josh & Jenson
Lazy Lads
Part Three
This spanking video follows on from Lazy Lads - Part Two
Josh and Jenson and best friends and they have already got into trouble for getting drunk and missing an important job interview. Jenson's Dad gave both lads a good spanking. This should have been the end of the saga, however Josh's Dad catches the lads telling lies so decides that more punishment is required.
This spanking video highlights the embarrassment of a grown up guy getting spanked in front of their best mate. Josh and Jenson are both muscular young men and having to strip off and receive a bare bottom OTK spanking from Dad why your friend watches is not fun at all. This is what happens to Josh. This spanking video shows every angle of his suffering as his beefy buttock receive a sound spanking from Dad. Will Josh be able to keep his composure throughout? Well you will just have to watch to find out!
STREAM
VIDEO
Available streams for iPad, iPhone, Android, Chrome, Safari, IE or Firefox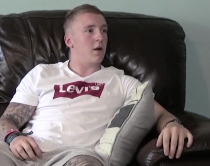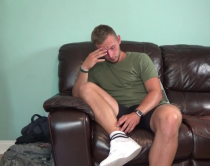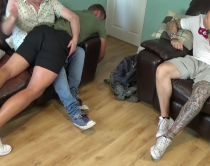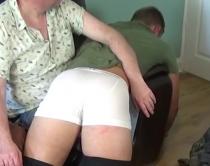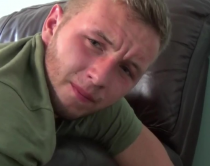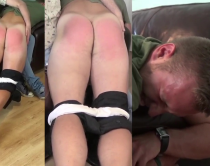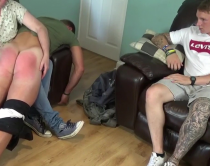 jacko | 13th March 2017 07:43
There are other spanking websites that feature more severe punishments of longer duration. The videos produced by those websites are usually restricted in interaction, dialogue, plot development and characterisation. In effect, they provide the opportunity to observe the infliction of pain without distraction other than perhaps a simplistic reason for the action. Corporal punishment for punishment's sake would possibly be the fairest way to describe such videos.
While some SLS videos appear to have been created with this market in mind, most SLS movies attract me because they extend far beyond cause and effect. Their storylines, not unlike television mini-series, capture my attention and interest by developing both the characters and the plot to craft anticipation of further plot development; not simply a matter of belting the victim into submission.
The four videos produced in this series to date, exemplify all that is praiseworthy about SLS movies.
Over the period of my admittedly short viewing experience, I have come to appreciate, respect and connect with the magnificent skills and abilities of over sixty SLS models who have each provided a valuable and unique contribution to the SLS team. Therein lies the success of this website and the support of its many viewers. I feel like I am part of one big happy family, the members of which share this pool of exceptional talent. In particular, the games videos, interviews and comradery on set help to foster a special interest in the lives and welfare of the models.
Due to the consistently high standard of production, acting and editing demonstrated on this website, our viewing enjoyment and entertainment are maintained. However, I take special delight in the unpredictable moments of dialogue, interaction and reaction that are recorded during filming; memorable gems which highlight the individual uniqueness of this website and its performers.
The obvious close friendship between Josh and Jenson has motivated a spontaneous interaction between them both throughout this series; memorable moments of irrepressible amusement; some at the most inappropriate times but quickly suppresssed. On what other spanking website would you observe a recently-spanked and sore model quietly laughing at the plight of his co-star while vigorously rubbing his own bum and waiting for the next dose? Yet it happened in this series. At the time, Jenson did not realise that he was in shot. That's the point! Generally the SLS models slot nicely into the scenarios and characters provided for them and their involvement is totally natural.
I did find the start of Part 3 a little confusing because at the conclusion of Part 2 Jenson's father made the following statement:
"Do you still want this interview? I am going to go away and make some phone calls. And I am going to come up with an excuse and see what we can rearrange. I will be back here in one hour's time and I expect you boys to be showered and dressed and suited and booted and you can use some mouth wash and get rid of some of that booze breath."
Apparently he was not successful in his endeavours and it all fell through either before or after he picked up the boys.
Am I making a harsh observation when I suggest that Josh's father was a very disinterested parent because in over a month since the "interview" he had not asked his son about the outcome, especially as his son did not go with Jenson on the boys' holiday during this period? Only now is he complaining that this news has been kept from him.
The interactions leading up to and while Josh's father was on the phone were hilarious, whether spontaneous as discussed above or directed. In fact, the sense of humour which permeated even the spanking activity of Part Three was a highlight for me and did not affect the realism. How guilty the two lads appeared as they played their characters to perfection! I have watched Part Three a number of times but on the latest occasion I concentrated on the facial expressions of the lads. Wonderful! The lads are constantly in character, totally believable and impulsive.
In my opinion, Josh has now joined the "Big and Beefy Club" and is too big to be spanked OTK unless it's done with his legs under his dad's armpits which I consider to be a much sexier position.
I appreciate the special efforts all three contributors made in the telling of this story and will comment further on Part Four. Congratulations also to Art who managed to capture some of those memorable moments with his split screens. This series has proven the value of recording the reactions of all parties where co-stars are involved.






Reply

Orla | 9th March 2017 13:12
These 2 lads work so well together and I really enjoyed this movie , I love the 2 lad movies cos i love watching the lads reactions to watching their friend being spanked and Josh got a hard spanking and for me watching Jenson was delightful to me he looked really nervous covering his eyes and checking the time and telling Dave it was enough.Josh was the star here he took one hell of a spanking, they were hard swats , you could tell he was in pain with his little face all scrunched up ,his heavy breathing,him hugging himself and he kicked his legs and the little squirm esp when you were hitting his sit spots ouch ouch and of course his glowing red bottom . Hope to see more of Josh and Jenson in part 4 and also hope Jenson gets spanked just as hard xx
Reply

Rasputin | 4th March 2017 01:51
Jenson gave a very good performance, but Josh's performance was excellent. Josh's response to his punishment was a little more demonstratve than Jenson's, his physique was a little more athletic, and his underwear was sexier than Jenson's. In addition, I felt that Jenson's excessive tattoos detracted from his performance.
Reply

Rasputin | 4th March 2017 01:26
A good solid OTK spanking show, Dave. Congratulations to you, Art and the lads.
Reply